Edit In Play Mode
UMotion can be used during edit mode and during play mode. Editing animations during play mode has great advantages in most situations:
As the animation can be tested in the same situation as it is going to be used, the number of iterations is greatly reduced.

It's easy to fine tune animations to make them fit perfectly into the game situation and the scene geometry.
To use UMotion during play mode, hit the Pause Button to pause the game.
UMotion can now be used like in edit mode by opening a project and selecting an animated GameObject from the current scene with the Pose Editor. This will modify the GameObject, but once Playing is continued, its original state is restored.
Play Mode Buttons
All changes done during play mode are stored in the UMotion project.
After the animation was edited in UMotion, it needs to be exported by clicking at File ➔ Export All Clips. This will automatically update the previously exported clips. The new clips will be immediately used in the current play session.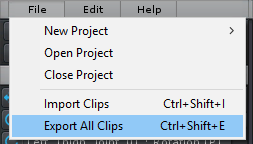 Export All Clips
To continue playing, click on the Pause Button again.